Green Grassroots initiatives
Interview with Marshia Medrichi
We encourage our staff to get involved in environmental projects and to come up with new ideas themselves. Marshia Medri from one of our IT divisions, speaks about how she helped introduce an organic food choice into our company restaurant.
What made you decide to go ahead with this project?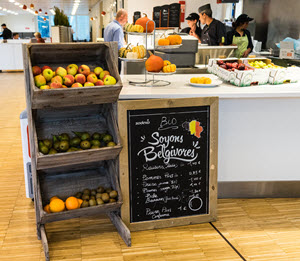 I prefer eating local, organic and seasonal food. It's good for my health and for the planet. The offer of sustainable food near our office is poor. As we have an internal restaurant for staff I thought it would be a good idea to have sustainable agriculture products on the menu. That's why I decided to launch the idea of "The Sustainable Fork".
By choosing the organic food option, you contribute to protecting biodiversity as no chemical pesticides and fertilisers are used, at the same time promoting local farming, and protecting the planet respecting the limits of natural resources, while eating healthy and nutritious products.
What were the biggest challenges you faced?
The main challenges were negotiating with the external supplier and economic and practical constraints around sourcing the right food as well as the extra work for the kitchen staff – but we got there is the end.
How successful has the introduction of organic food into our company restaurant been?
A sustainable food offer is available every day. Overall, the project was a success. We've had a lot of positive feedback from staff and our restaurant supplier has recently expressed its satisfaction with the organic food sales.
The benefits are for both our staff and for the company. The link between the company and the employees is stronger because CDB shows that it cares about its people's health. Finally, this initiative has increased employee satisfaction: it's easier, more choices are available at the canteen, healthy and nutritious food is now an option.